How to Convert PST Files to Emails?
Are you looking for a perfect way to convert PST files to emails? So, here we provide you with a perfect method to move your PST data to emails.
A PST file is a personal storage table, which is a file format used by Microsoft programmes to store items such as calendar events, contacts, and email messages, among other things. PST files are used to store information by several famous Microsoft applications, including the Microsoft Exchange Client, Windows Messaging, and Microsoft Outlook, among others.
If you want to convert PST emails to another file format, your emails will be saved in the opposite file format, which can be used to visualise the emails even if you do not have Outlook installed on your computer. If you want to confirm that your messages are always accessible no matter what email client you use in the future, you should convert your PST file.
Import PST file from Outlook
If you want to convert the PST file to any other email format. So, first, you export all emails from the Outlook PST file.
Let's have a look…
Run on File >>Open & Export >> then click Import/Export tab.
Secondly, Choose Export to a file >> next.
Choose Outlook data file >> Next.
Above Inbox, select the top folder to back up your entire email account, including subfolders. If the Include subfolders are not checked, do so now. Then click the Next tab.
Chose a folder on your computer to save the PST file >> Finish.
Enter OK to export your Outlook emails to PST format with password protection.
Reasons – Why do you convert PST files to Emails?
If you are not sure that which email client do you use in the future and where you've saved the PST file in a different format.
You want to save your emails in PDF format so you can easily share your emails with others and PDF give you a print option also.
You have an old PST file and after some time you need to read emails, but Outlook does not allow you to read them. So you want to convert your PST file to another email.
The User wants to save his emails online forever. So, they want to convert PST to Gmail, Yahoo, and other email clients.
If you've decided which email format or application you want to save your converted PST file in, take a look at the steps below.
How to combine PST emails with other email clients?
You want to combine your emails from the PST file with other email accounts (Gmail, Yahoo, outlook.com). So, follow these steps given below:
It will mainly transfer the PST file to this platform for all PST files and emails on all your linked devices to be in the same place.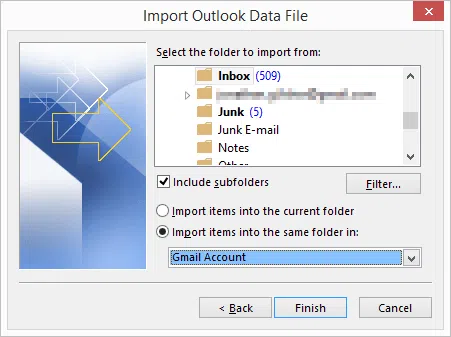 Add your email account (Yahoo Gmail, Outlook.com, etc.) to Outlook to see all emails. So let connect fully with your PC.
Click on the File option, then press on the open & Export tab >>Import/Export.
Select Import from another program or file, then clicks on the Next button.
Select PST file >> Next.
Navigate for your backed-up PST file.
Select the Duplicate option, so, replace duplicate imported items, and then press the Next option.
Make a selection from the PST file that contains the folder that you want to import into your current email account.
If you want to transfer emails from subfolders as well, check the Include subfolders box.
Picked Import emails into another folder, and then choose the folder into which you want the emails to be converted after they are imported.
Then convert/save PST emails to other email applications.
Important: Manually convert PST files to other email applications is a little tricky. Because during this process you can lose your data. And attachments also.
Automatic Way to Convert PST file to other Emails
Syskare PST file converter tool is the foremost tool in the market. It converts Outlook PST file as per your needed file format within a few seconds. Examine the following characteristics of the software:
Benefits of the Tool:
Convert PST files to multiple formats: You can convert PST files to multiple file formats, for instance, PDF, EML, MBOX, CSV, HTML, vCard, Thunderbird, Windows Live Mail, and so on.
Import PST file to office 365: you can directly import Outlook PST files to Office 365 accounts.
Using this software you can easily convert Outlook PST file into online email service such as Gmail, Yahoo, outlook.com, Google Workspace without extra efforts.
This software converts PST file with all Windows OS like Win 10, 8.1, 8, 7, XP, Vista, and so on.
Steps to convert PST files to Emails
Firstly, Download and install the Software on your computer.
Secondly, Select Files/Select Folders option.
Thirdly, Tick the recovery Mode option and hit the Next button.
Choose the specific folder that you want to convert into emails.
Then choose the file saving option as per your need. The software gives you 90+ cloud email service.
It gives you an advanced filter option to arranging the output.
Click the Convert button to continue the process.
Finally, successfully convert your PST file to Emails.
Final Words
In conclusion, thousands of users already have PST files, but for a variety of reasons, they wish to convert them to a different email format. You can easily convert PST files into any email format, including PDF, MBOX, EML, Office 365, Google Workspace, and others, by using the software. With this software, there are no file size restrictions imposed. A demo version of this software is also available. After trying it out and being satisfied, you can purchase a licenced version of the software package.