Convert DWG to BMP File Format by Reading This Expert Guide
User Query!
Are you trying to convert DWG files to BMP file format using the best and highly recommended third part tool? Then use the professionally recommended DWG Converter Tool to convert DWG to BMP file format.
In this article, we are going to describe to you a complete step-by-step procedure on how to convert DWG drawing files into BMP file format without altering the drawing quality you can zoom in and can see clearly without facing any hassle.
How to Convert DWG File to BMP File Format?
To convert DWG Files to BMP File format use the best and experts recommended tool that is non-other than a fully and pre-programmed utility that enables you to convert the files into any desired file format within a limited time.
In this article, we are going to provide a step-by-step guide that helps you to convert DWG to BMP without facing any file error, or image quality, and can easily be opened in any BMP-supported software without any problems.
Now, follow the below step-by-step guide to export DWG to BMP file format.
A Complete Guide to Convert DWG to BMP File
1. Start the process by free downloading the demo version of this utility and then accepting the terms and conditions.

2. After that, select the files and folder options to insert the DWG drawing to convert into BMP file format.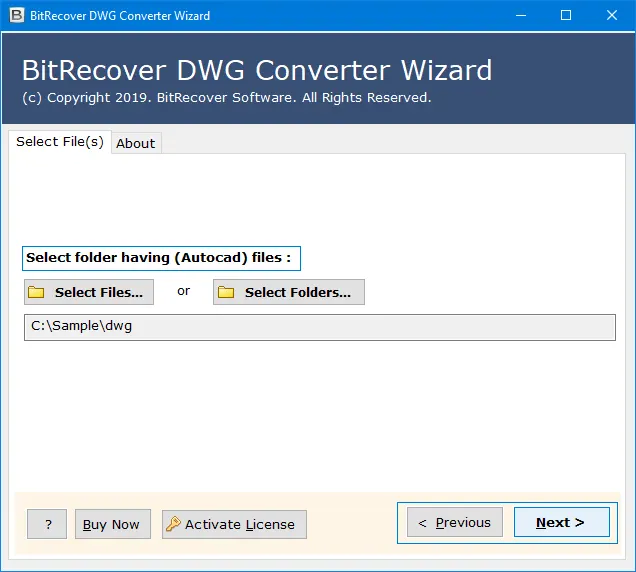 3. The DWG to BMP Converter tool will start showing all the DWG files in the display panel. And then choose your desired saving file format from the list of options. And in the end, select the end location as well to store your converted BMP files.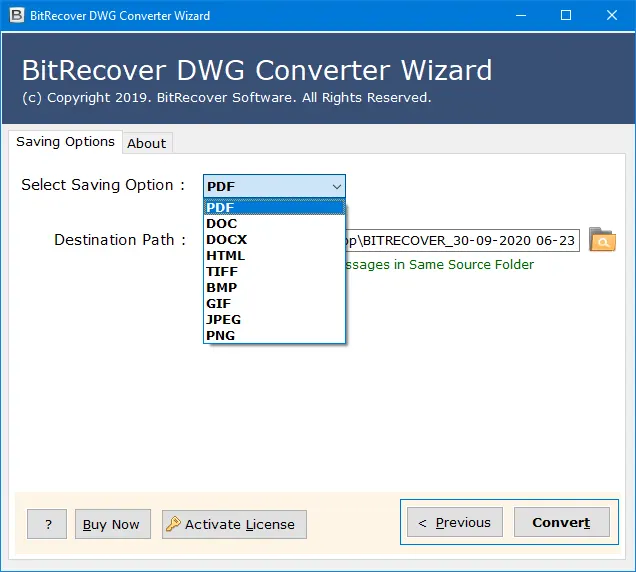 4. Finally, in the end, click the Convert button to begin the process by using this DWG to BMP Converter without facing any errors.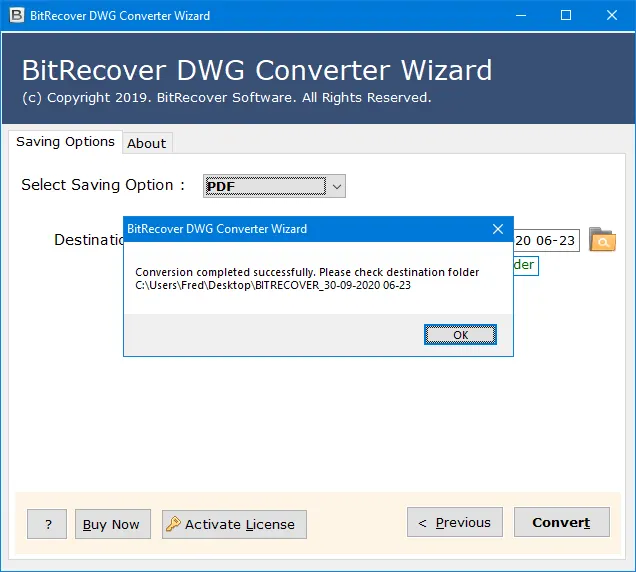 Why Do Users Convert DWG to BMP File Format?
Images in BMP format are Bitmap images. The image can be displayed on any device by specifying its pixels, which is why it is device independent. All Bitmap information is contained in the file header. A gray color model and a colored color model are supported. Besides containing color tables, it also contains image color tables.
Benefits of Converting DWG to BMP File Format?
BMP File Format: Advantages and Applications
Among its selling points is its ability to store, move, and view digital images from one device to another. As the term implies, "device-independent" refers to the ability of the bitmap to specify pixel color independently of the color representation method used by the display device.
This Format has the Following Specific Advantages and Applications:
In addition to supporting various color depths, alpha channels, and color profiles, the BMP file format also supports data compression.
Adobe Photoshop, as well as standard image viewers and web browsers, support this format.
Lossless compression or uncompressed files are both possible. Since the BMP standard is compatible with editing, manipulating, and moving images without compromising image quality, it can be compared to the JPEG standard.
It is relatively easy to read an uncompressed BMP file. It is impossible to decompress any other compressed image file format.
Due to the fact that it is capable of storing color data for each pixel in the image, the format can also be used to store crisp, high-quality images.
It should also be noted that JPEG and GIF are also bitmap formats, but they use image compression algorithms to reduce the size of their files.
Author's Suggestion
In this article, we explained the best process to convert DWG to BMP File format by using the best and highly recommended DWG to BMP Converter Tool. You can easily convert the file format without facing any type of error and problems. Moreover, by using the above mentioned tool, you can convert the DWG File to any other file format as well.
This utility supports PDF, TIFF, HTML, DOC, DOCX, and so on. So, without worrying about any data loss. Free download the demo version of this application in your currently working operating system and then start converting DWG Files to HTML File format.
Also Read Related Blogs Article: