How to Import VCF Multiple Contacts to Outlook?
Importing a VCF file with multiple contacts into Outlook 2010 and other versions, it's difficult for a few users to perform the Import VCF Multiple Contacts to Outlook process. But there is no need to worry, in this article, we are going to describe the best two methods to perform the import of multiple VCF files to the Outlook process.
As we know that VCF (Virtual card) is common to store all contact information. However, Outlook can read VCF files, but some hooks here. So, in that case, we have to know first the main user problems and their queries regarding the process of importing multiple vCard contacts to Outlook. To learn more about the problems, read the following user query:
"I have multiple vCard contacts files on my desktop and I need to import them into Outlook 2016. Because I have an old version of Outlook. I tried manually to import the VCF files but the problem is, that it converts only the first contact from a file, Outlook did not appear to support multiple VCF files at one time. Is there a simple way to import multiple contacts?"
"A friend of mine has about 100 .vcard files (each a separate contact) that he exported with the Google Takeout method. Now he has changed his platform and decided to choose Outlook. He wants to import VCF Multiple Contacts in Outlook. He tried to import them but was unable to select more than one at a time. And he doesn't have much time to import them one by one. If anyone can help then That would be pretty cool!
Recently we found out that many users are currently searching on the forums site and some other sites with the same query like "How to import contacts into an Outlook account?" & "How to import multiple VCF contacts to Outlook" and so on.
If you are one of those users who are facing the same problem and want to import bulk vCard contacts to Outlook then, keep reading the blog. We'll give you the best ways to import contacts within a few minutes without any hassle.
Read More: How to Convert Batch vCard File to TXT file Format?
Why Import vCard Contacts to MS Outlook?
VCF (Virtual Card Format): vCard is a digital file format that most the user used for storing contact information. A vCard file is saved in the .vcf extension that allows for sharing contact details across different email service providers like Microsoft Outlook. This is also the main reason of import VCF Multiple Contacts to the Outlook process.
Microsoft Outlook: Worldwide, Microsoft Outlook is one of the most popular email clients. It loses some basic features, reaching some heights. Users can easily understand contact information because of its simple interface. Compared with another email client, it gives you a secure environment.
MS Outlook 2021, 2019, and 2013, only these versions allow migrating a single VCF file at a time. So, users are importing multiple files manually, then they need to repeat this process again and again.
The manual method takes your precious time and effort multiple times. But there is no need to worry about this, Here, we will give you the best methods to import VCF with multiple contacts to Outlook 2010 and the below versions without requiring any technical knowledge and skill. You can smoothly perform the process of importing multiple vCard contacts to Outlook in bulk.
Faster Way to Import VCF Multiple Contacts to Outlook 2016
Syskare vCard Converter Tool is a best solution to import your VCF multiple contacts to Outlook 2016, 2010, 2019, and other versions. Also, this software enables you an effortlessly import processes within a limited time period. Moreover, you can read some of the additional features of this utility to understand some of the key points of this application:
The Software allows the creation of a single VCF file for all contacts.
It supports all VCF file versions i.e. vCard version 2.1, version 3.0, and version 4.0.
There are no boundaries to transfer multiple VCF files.
The software support all windows OS.
Steps to Import VCF Multiple Contacts to Outlook


1. Firstly, Download and Install the converter tool. and select open and then select VCF file or folder.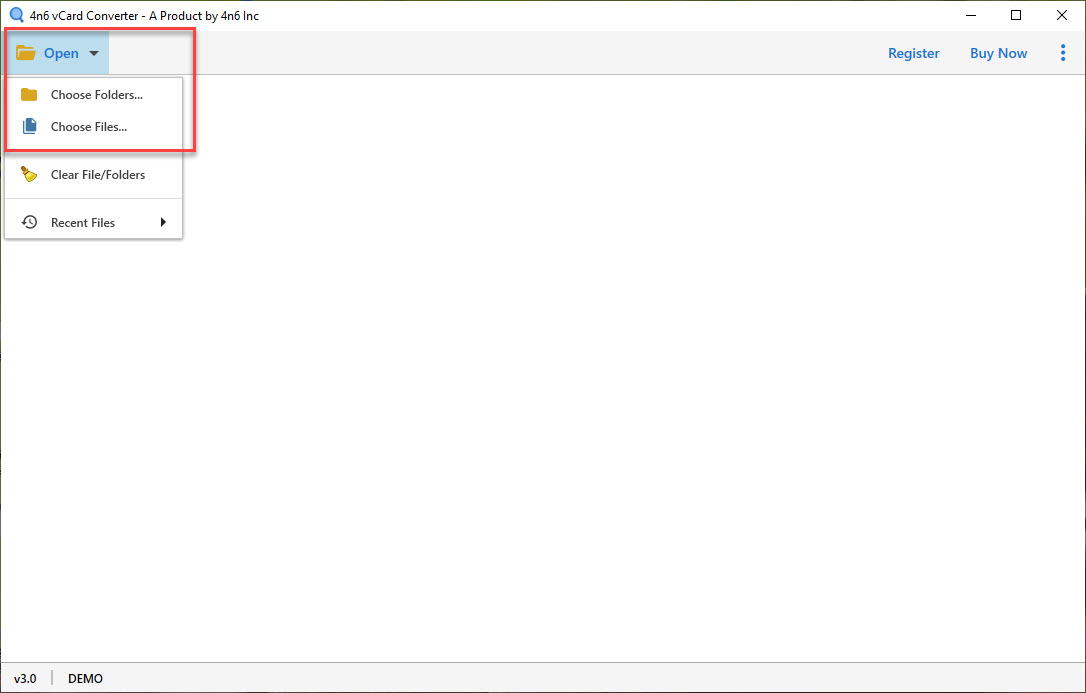 2. Secondly, Preview the VCF file with contact, personal, and domestic details.
3. Choose to save the VCF file in any other file format as per your need.
4. Thirdly, Extract Phone numbers, Email Addresses, and contact details from the VCF file.
5. Finally, click the Save button to import the VCF file successfully.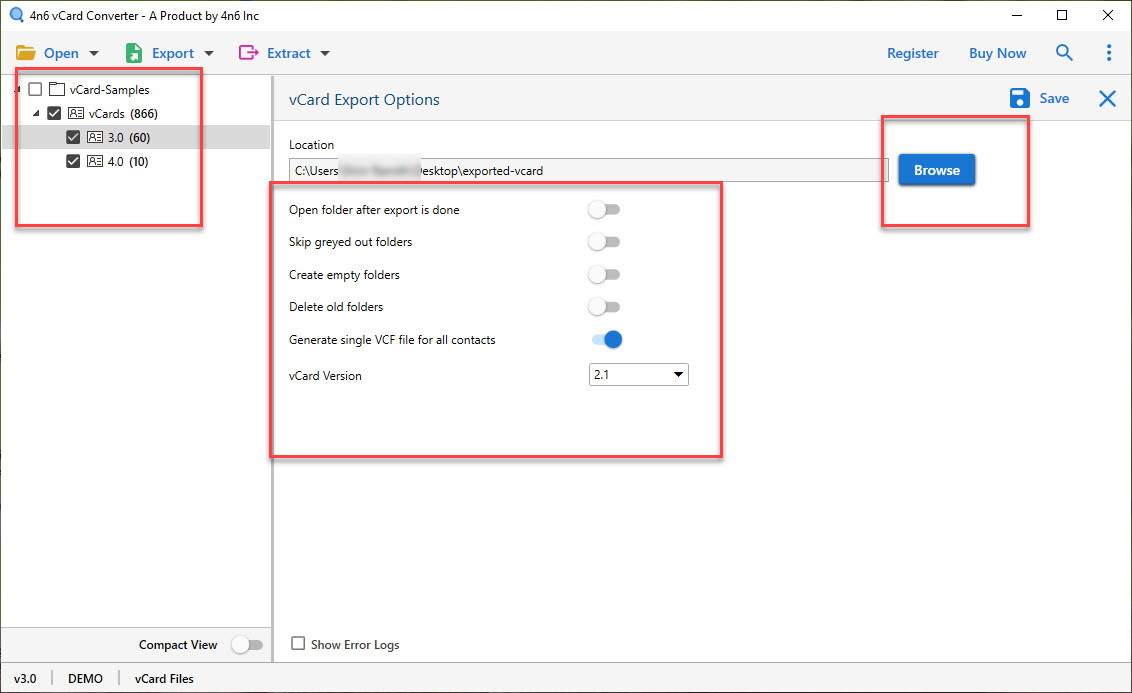 Manual Method to Import VCF Multiple Contacts to Outlook
The second method is the manual method to import vCard multiple Contacts to Outlook 2016, 2010, 2019, and so on. The manual approach is a time-consuming process and difficult to migrate multiple vCard contacts. Follow these steps:
Open Outlook and run to the File menu (upper left corner.).
After that, select Import/Export from the Open & Export menu.
In the Import and Export Wizard, choose the Import a vCard file option.
Then, select the VCF file that you want to import into Outlook and press the next button.
Lastly, your contacts will appear in Microsoft Outlook.
Drawbacks of the Manual Methods
Importing only the first contact from a VCF file with hundreds of contacts.
You must also map the VCF's data types to Outlook, which takes time.
It is not a feasible method for users having innumerable VCF files.
Read More: A Simple Method to Export Emails From GoDaddy to PST?
Frequently Asked Questions
Ques1: Is it possible that Outlook imports VCF with multiple contacts?
Ans: Yes, by using the manual import/export option users can easily import their VCF or vCard contacts to Outlook. But to perform this process user needs to convert the VCF or vCard files into CSV. This means users need to convert the file format first and then import the contacts on their currently working Outlook.

---

Ques 2: Can I import multiple VCFs to Outlook with this tool?
Ans: Yes, with this tool you can bulk import VCF or vCard files into Outlook. Also, this tool supports both bulk and selective import of multiple VCF Contacts to Outlook.

---

Ques3: Does Outlook import vCard multiple contacts in a single go?
Ans: To import vCard multiple contacts to the Outlook application. Users need to first convert the files into CSV then they can easily import VCF Multiple contacts to Outlook.

---

Ques4: Is this tool maintain my VCF file data during the import of multiple VCF Contacts to the Outlook process?
Ans: VCF files are text files (usually compressed). This file consists of meta-information lines, a header line, and data lines containing information about individual positions within the genome. This tool keeps all the meta information intact throughout the import process.

---

Ques5: Can I preview my card information before importing them into the Outlook Application with this tool?
Ans: Yes, This tool enables you to preview the VCF file in the right-side preview panel. This means you can preview the vCard files in two different modes i.e., Contact Details and Raw vCard.
Conclusion
In conclusion, We mentioned both manual and automatic solutions of the import vcf multiple contacts to Outlook process in this article. We have offers an ideal and smarter way to fix the manual method's limitations. Easy way to download and install the Tool first and follow the instruction to import VCF multiple Files to Outlook all versions. It's a quick and easy way to save and manage your contacts fluently.