How to Unlock Unknown Password from PDF Files – Reliable Solution
We are all aware that passwords are critical for protection in the modern era but users want to unlock unknown password from PDF files by using a safe and secure PDF Unlocker Tool. But, This process can be completed efficiently with the assistance of automated software. Passwords are frequently used to safeguard sensitive information contained in PDF documents and to prevent unauthorized. zed editing.
So, That's fantastic – it's comforting to know that whoever created the document went above and beyond to safeguard privacy. But, sometimes the permission password from pdf will become a big headache for an organization, business, institute, hotel, college, hostel, and so on.
Why do Users Only Want to Remove Password Protection from PDF Files?
We all know that PDFs are the most popular file format among all file types we use in our day-to-day life. Only a PDF file is the most used file format in all the working or educational institutes. Just because of there Easy to share flexibility and many more advantages.
But due to the factor that it is a Portable Document Format the risk facts may also include when we are sending crucial information or data. But, without worry, it also provides us with a Password facility that secures our PDF information. However, there is some point of situations that we face when we have to remove unknown passwords from PDF files in bulk. And then we required a person who is able to unlock unknown password from PDF files or remove PDF unknown password protection.
How to Remove Permission Password from PDF?
Are you looking for a way to remove unknown passwords from PDFs as well? If so, this blog will assist you in completing the removal of permission passwords from multiple PDF files. The user can overcome this situation by utilizing the PDF unknown password remover. Maintain contact with us and read the entire blog.
There are Two Types of Password Protection in PDF File
In this paragraph, We are going to discuss a little bit about how many types of Passwords protections users are using to safeguard their PDF File information and also why they need to unlock unknown password from PDF files in bulk.
Passwords are used to protect and secure PDF files to maintain their safety and avoid unauthorized access. In PDF, two different types of passwords are used. One is the password to open the document, and the other is the permissions password.
Document – Open Password
It is a password used to protect PDF files. The password is required to view the file's content if a file has an open password.
Permissions – password
It is a password that is used to protect PDF files from unauthorized modification, editing, copying, and printing. While the document can be opened without a password in Adobe Reader or Acrobat, the password is required to change the document's copying, editing, or printing restrictions.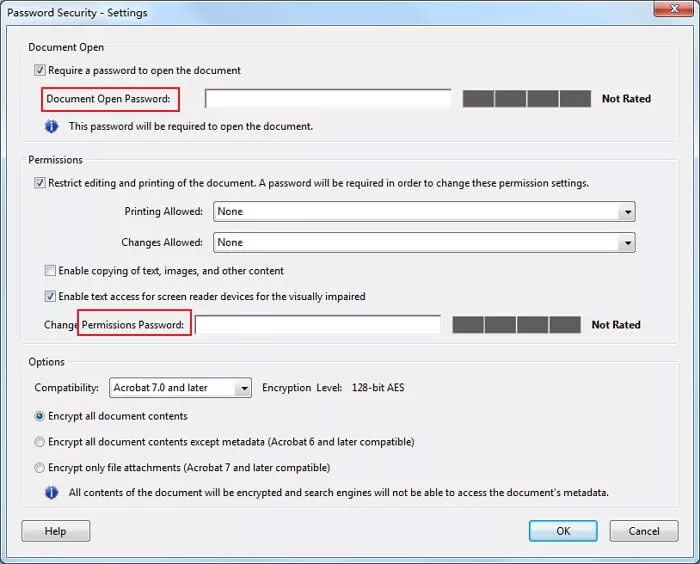 Why do users need to Unlock Unknown Password from PDF Files?
There are numerous instances where users require the removal of passwords from their PDFs. When users attempt to print PDF documents but they discover that the print function is disabled due to the use of that specific password. In addition, when they attempt to resolve the issue with Adobe Acrobat Pro so, they will be prompted for the permission password, which is frequently unknown to the user. Therefore, the user may be required to unlock an unknown password from PDF in these instances. Occasionally, not only the print function is disabled, but also other permissions such as copying, editing, and highlighting PDF text. Mostly the time a user opens the PDF, the user is prompted to enter the password, which can be inconvenient at times when the user is in a hurry.
above all, one should have a backup plan so that the user can save a copy of the PDF that is not password protected. The user can easily access the PDF after removing the password.
Automatic Solution to Unlock an Unknown PDF Password
It is a powerful PDF security software. This tool allows users to edit PDF files. Removing restrictions such as page extraction, printing, commenting, copying, and document assembly is possible.
Notice, the given software can remove both PDF file security types. It will ask for a Document-open password if user-level security is removed.
The software can unlock unknown password from PDF job well without losing its original content. Also, Its FREE demo version is safe to enable restricted PDF editing permissions. But it saves the file with the watermark. Using the full software removes the watermark from documents.
Features of the Tool for WINDOWS USERS
The software supports unlocking owner-level password permissions.
Unlock batch pdf files using add files/add folder option.
Easy way to break commenting restrictions from multiple PDF files.
Software allowing form fill-up in PDF by removing barriers on the signature.
It allows the unlocking of PDF documents restrictions without Adobe Acrobat.
Support all windows Version to unlock unknown password from PDF files.
1: Press Import option to unlock the PDF file.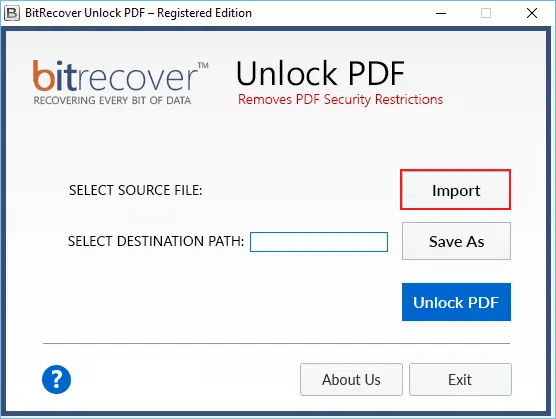 2: Now, after import the PDF files select the Destination Path to store your unlocked PDF files in bulk. and click the Unlock PDF file option.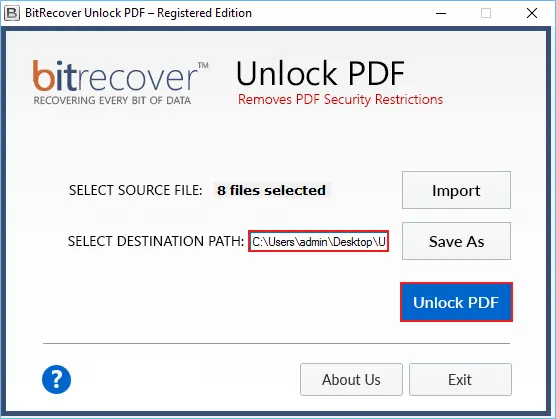 3: Finally, the PDF unlocker tool will start the process after completing successfully. The application will show you a completed notification pop-up.i/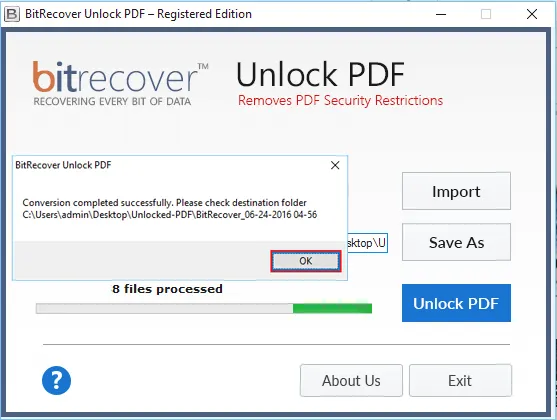 Features of the Tool for MAC USERS
The software allows unlocking save PDF for Copying, printing, editing, and extracting pages on Mac OS X.
Support to break limitations from multiple PDF files.
Before and After the unlocking process, check the results of PDF documents.
After unlock unknown password from PDF, you can use PDF files into Adobe Acrobat effortlessly.
For Mac, Adobe Acrobat is not required to unlock locked PDF files.
Step 1: Remove permission password to click on Import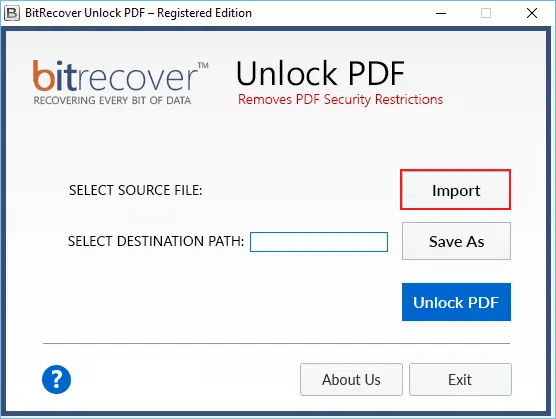 Step 2: Choose the Destination location to save PDF files. Then, Click on Unlock PDF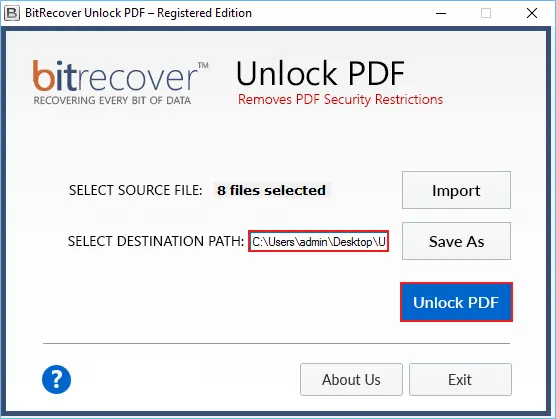 Step 3: You see on the screen a pop-up massage-box unlock unknown password from PDF Completed Successfully.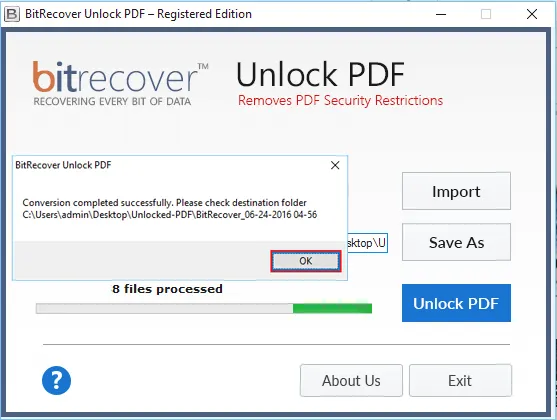 Conclusion
In conclusion, Adobe Acrobat is a multi-functional program and it frequently fails to remove the owner or permission password from PDF files ( which are unknown to the user). However, in this article, we introduced best all-in-one solution to perform the unlock unknown password from PDF process. This blog will help you to easily remove all unknown password or protections from bulk PDF documents in a single go.
Also, Read How to Remove PDF Passwords from e-Aadhaar Cards in bulk.