Convert DWG to PNG File Format Using DWG to PNG Converter
Summary: In this article, we will elaborate on the procedure to convert DWG to PNG file format. Here, we will discuss the reasons, Solutions, Needs, and FAQ. That will help you know why users want to export DWG to PNG file format.
Now, Let's start the process of converting DWG files to PNG file format without altering the drawing quality and size. But, before starting the process. Let's first understand why users want to convert DWG to PNG File format.
What are the Main Reasons for DWG to PNG Conversion?
PNG files are commonly used in web design circles because they allow designers to create striking effects with transparent backgrounds.
In addition to being a compressed image file format (between 10-30% more compressed than a GIF), PNG also uses lossless compression. It enables a user to decompress an image without losing any of its original information.
The PNG format is a popular choice for high-resolution images such as logos because it contains more detail than the JPG format.
As a popular file format for the Web, PNG overtook the GIF in 1995. PNG files are widely supported and can be opened and edited by most graphics applications.
How to Convert DWG to PNG File Format?
To convert DWG Files to PNG file format, use the best SysKare DWG Files Converter Tool. With this application, you can easily convert DWG files to PNG File format within a limited amount of time.
However, the best part of this application is the graphical user interface of this utility. The GUI of this application is easy to understand. This means you can effortlessly perform the procedure without requiring any additional help and downloading software.
Steps to Export DWG to PNG Files
1. Download the DWG to PNG Converter tool in your Windows operating system.

2. Then, select the DWG files from your system to insert into the tool's display system. The software provides you double options to upload the files i.e., Select Files or Select Folders.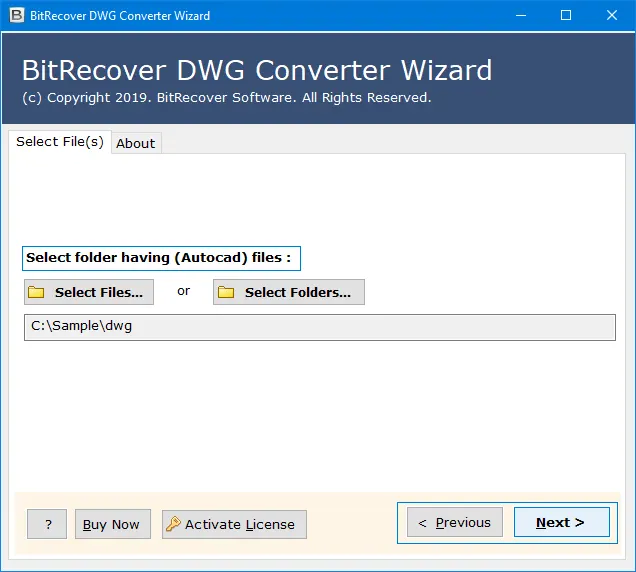 3. Now, select the saving file format from the provided list of options. After selecting PNG, locate your destination location.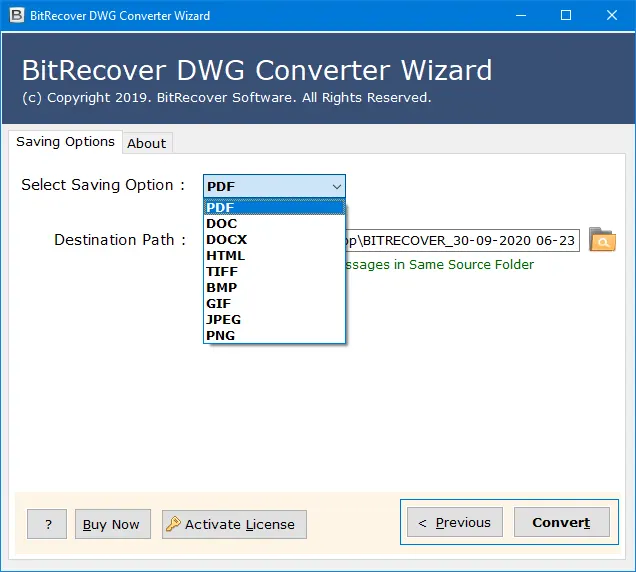 4. In the end, Click the Converter button to begin the Convert DWG to PNG process.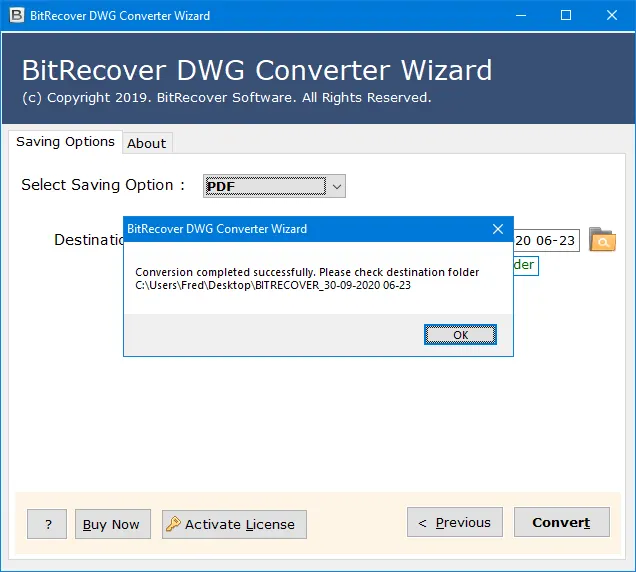 5. As soon as you hit the convert button the tool will start the process and then will display a conversion completed successfully message.
This tool will effortlessly convert DWG to PNG procedure within a limited time. So, without wasting any more time on the internet searching for a reliable solution to convert DWG Drawing to PNG. Free download this application in your system and then start the process.
What are the Benefits of Using DWG to PNG Converter Tool?
This professional utility not only enables you to convert DWG to PNG file format. But, it also provides you with multiple file formats and advanced features options to enhance the process of converting DWG files to PNG File format.
It allows you to convert AutoCAD files into PNG, PDF, DOC, DOCX, HTML, TIFF, BMP, GIF, JPEG, and other file formats as well.
This tool enables you to convert 2D and 3D DWG drawing files into any desired file type.
It enables you to preview the uploaded files and folders before converting them.
Complete freedom to select the desired destination location without any hassle.
Export your AutoCAD, CorelCAD, Draftesight, LibreCAD, SOLIDWORKS, Adobe Illustrator, TurboCAD, and SketchUp-generated DWG files in a variety of formats with this program.
It enables you to batch convert DWG files to PNG File format.
Double options to insert DWG files into the tool's preview panel.
Among the best features of this DWG converter is its ability to convert AutoCAD data components while maintaining their quality.
What are DWG Files and Why Do We Convert them into PNG?
Technology advances at the same pace as human innovation. Buildings and houses were the only structures humans had in the past. The primary motive of these people is to survive, but now they are expected to perform, and their standards are high as well.
Creating a three-dimensional representation of their ideal world is their first step in creating a map. In addition, AutoCAD software produces images in DWG, DXF, and DWF formats for these 3D images.
As a result of their large sizes, these images may need to be compressed in order to be easily transferred. You can also use a DWG File converter to convert DWG files to PNG, which in addition to converting DWG files to PNG, also offers a few features that are listed above. Another option is PNG, in which you can easily compress your data without any impact on the image.
Final Words
Use the above-described method to convert DWG to PNG file format. If you are looking for a safe and secure tool to export DWG to PNG. then, you can use this software to perform the process without any hassle. However, the best part you can convert the AutoCAD files into multiple file formats as well. So, free download the demo version of this utility and start the process.
Related Blogs