How to Convert EML to PDF File Format?
Nowadays, Users are looking for the best way to convert batch EML files into PDF files. Both file formats are used by various email services, it is sometimes necessary to move EML to PDF files format. We will guide you best technical way for converting EML to PDF. So, here we will solve your all queries.
User query
I am Eli belong to IT company. I saved emails from my personal Gmail account and they automatically saved in the .eml file extension. one-by-one saved email messages are too difficult. For my presentation, I want to convert my EML files into PDF file format. Some of my mail which save in EML format. That's why I must migrate those EML files into PDF files. Does anyone suggest to be the best technical way for conversion?
Before we start the conversion. Let you know about EML files and PDF files.
EML file
EML saves emails in plain text format so they can be easily imported into other email applications. Many other email clients including Apple Mail, Microsoft Outlook, Mozilla Thunderbird, IncrediMail, and so on, Use the EML file format to save a single EML message. .eml files opened in Web Browser like Mozilla Firefox, Opera, and Internet Explorer by changing the file extension from .eml to .mht. Gmail also allows you to download emails as *.eml files, as shown in the picture.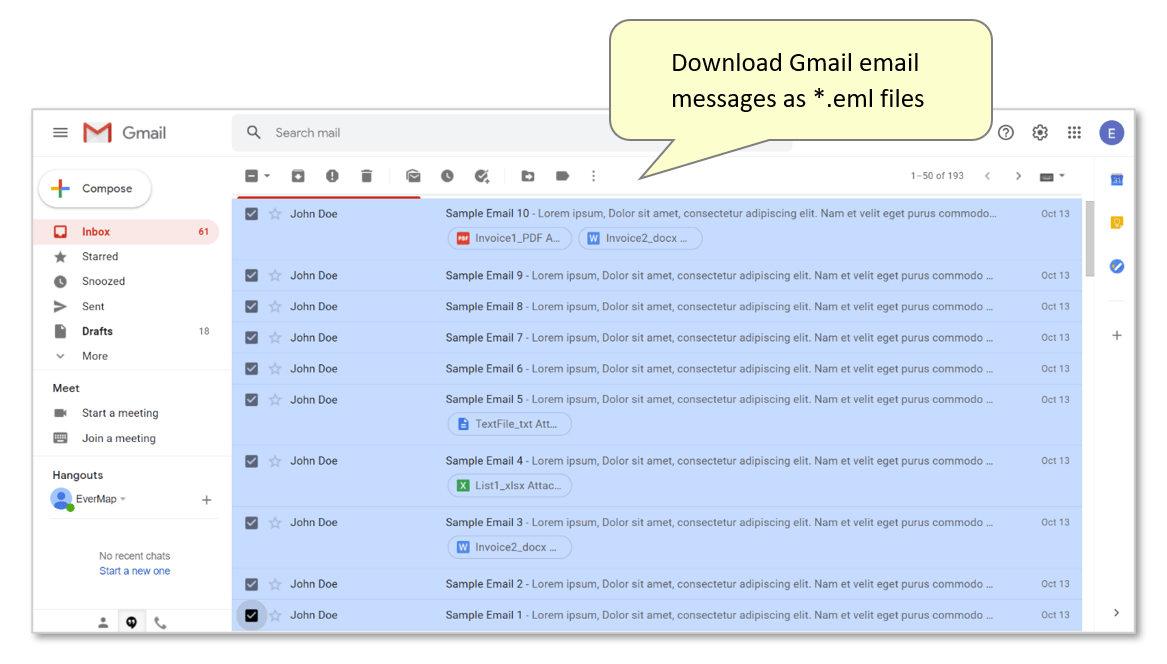 PDF file
PDF (Portable Document Format) is a collection of files that contains multiple files in a single PDF format. You can save various data such as images, videos, text documents, spreadsheets, PowerPoint presentations, and so on. It is important to consider that a PDF portfolio is not the same as a PDF document. Its main advantage is a very suitable file format that can run on any other system. Adobe created this format, which is primarily used to create e-books.
Why do people need to convert EML to PDF file format?
Looking at the scenario above, it is clear that the two formats are totally different from each other. The first is used to saved email messages, and the second is used to saved documents and files. There are many reasons to convert EML files to PDF format. Some reasons are listed below:
Multiple EML files save in a single PDF file as a backup.
PDF is the most secure and portable file format, PDF files are not open to the authorized user.
Emails can be open offline by converting them to PDF format.
In PDF file format, you can save your emails with attachments.
There is two way to Move EML to PDF file format:
Automatic way
Manual way
Automatic Way to export EML to PDF
Syskare EML File converter Tool is the best solution to convert EML to a PDF file. Professionals frequently use this solution to save and secure our data. follow these steps to export EML file to PDF file:
Secondly, the Software gives you dual options (select files/select folders).

Choose the EML folder from your PC.

Choose email files or folders that you want to convert, click the Next tab.

On your screen to see multiple saving file naming options choose PDF.

Now, the software gives you the advanced option to convert attachments as PDF, black and white mode, Choose destination path after selecting all blocks, press on Convert tab.

Conversion complete successfully.

Automatically open folder After all these process.
Manual Way
A User won't help with a third-party tool then they go with the manual method. But manual process take more time and lengthy process. Let us begin the conversion:
Unlock Microsoft Outlook and choose any EML email file that you want to convert to PDF.
Choose to save as a tag from the menu.
Now, save the file in HTML format to any location.
Run-on the office tab and save as.
Finally, Choose the PDF file format to store the EML file.
Why is the Manual Method fail?
Sometimes, manual process can fail when users convert EML to PDF with attachments. If a user wants to convert multiple EML files to PDF, So you must repeat the process again and again. The Manual method only convert a single EML file into PDF file format. During using the manual method maybe you can be lost your data. This process is time-consuming, converting EML to PDF takes more time and effort.
Bottom Line
In conclusion, Above all, we guide both manual and automatic solutions for converting emails format. As well I have listed all the benefits and drawbacks of the manual method. As a result, you can use a third-party tool, which allows you to save multiple EML files to PDF files at one time.
Related Posts: