How to Convert EML to PDF File Format?
Nowadays, Users are looking for the best way to batch convert EML files to PDF format. Both file formats are used by various email services, it is sometimes necessary to move EML to PDF files format. We will guide you best way for converting EML to PDF format. So, here we will solve your all queries.
User query
I am Eli belong to IT company. I have saved emails in the .eml file extension. I want to check them in PDF format. Is it possible to convert EML to PDF with attachments? Please share all steps, so that I can perform all steps myself and easily batch convert EML to PDF format.
Difference Between EML and PDF File Format
EML file
EML saves emails in plain text format so they can be easily imported into other email applications. Many other email clients including Apple Mail, Microsoft Outlook, Mozilla Thunderbird, IncrediMail, and so on, Use the EML file format to save a single EML message. .eml files opened in Web Browser like Mozilla Firefox, Opera, and Internet Explorer by changing the file extension from .eml to .mht. Gmail also allows you to download emails as *.eml files, as shown in the picture.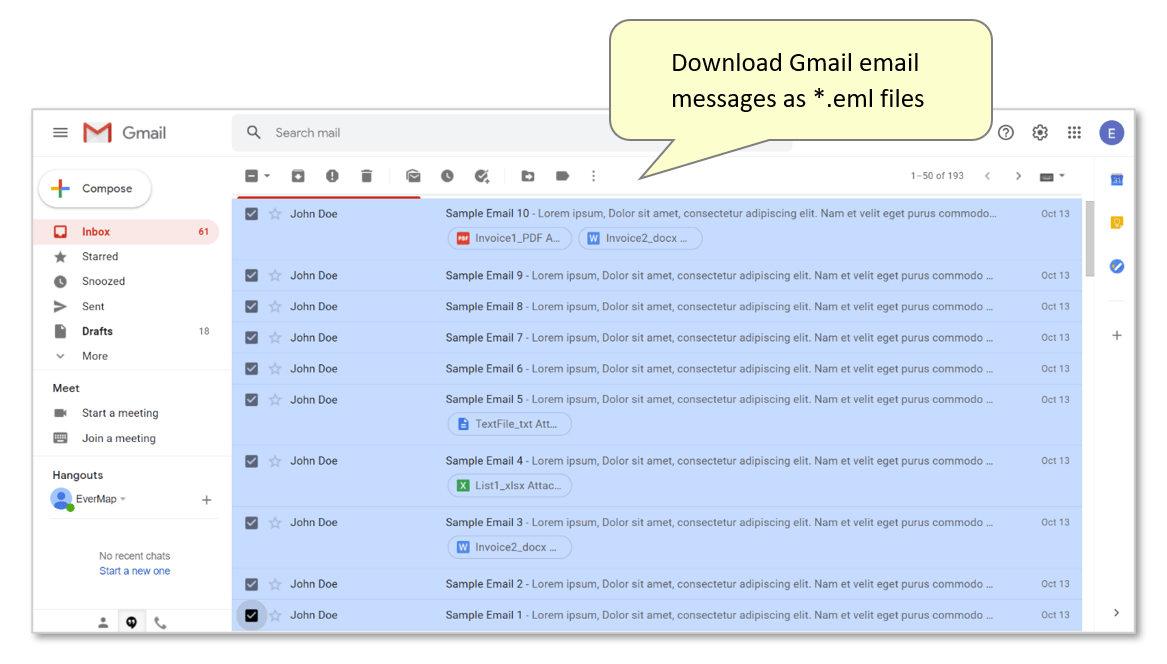 PDF file
PDF (Portable Document Format) is a collection of files that contains multiple files in a single PDF format. You can save various data such as images, videos, text documents, spreadsheets, PowerPoint presentations, and so on. It is important to consider that a PDF portfolio is not the same as a PDF document. Its main advantage is a very suitable file format that can run on any other system. Adobe created this format, which is primarily used to create e-books.
| | | |
| --- | --- | --- |
| Features | EML File | PDF File |
| File Extension | .eml | .pdf |
| Full Form | Electronic Mail Format | Portable Document Format |
| Usage | Used to save single email messages with their body content and metadata. | sed to save documents including text, images, graphics, numbers, and formatting. |
| Associated Application | Email client (e.g., Outlook, Thunderbird) to open and view the email content. | Requires PDF viewer (e.g., Adobe Reader, web browsers) to open and view the PDF content. |
| Attachments | Attachments are embedded within the EML file or linking to external files. | Supports attachments but does not inherently handle them like email clients. Attachments are part of the document content. |
| Readability | Structured for programmatic access, containing metadata and email content in plain text format. | Intended for human readability and often includes rich formatting, images, and graphics. |
| Data Structure | Contains a single email message, including sender, recipient, subject, body, and attachments. | Represents a document with various content types, often structured as text, images, and other elements. |
Why do People Need to Convert EML to PDF File Format?
Looking at the scenario above, it is clear that the two formats are totally different from each other. The first is used to saved email messages, and the second is used to saved documents and files. There are many reasons to convert EML files to PDF format. Some reasons are listed below:
Multiple EML files save in a single PDF file as a backup.
PDF is the most secure and portable file format, PDF files are not open to the authorized user.
Emails can be open offline by converting them to PDF format.
In PDF file format, you can save your emails with attachments.
Ways to Export EML to PDF File Format
There are two possible ways to convert EML to PDF with attachments and all metadata. Both the solutions are explained below, choose the best one:
Batch Convert EML to PDF using Software
Free Convert EML Files to PDF Manually
Both the solutions have their own pros and cons, follow the instructions explained in below section.
Export EML to PDF Using Best Software
Syskare EML File converter Tool is the best solution to convert EML to PDF file. Professionals frequently use this solution to save and secure their data. follow these steps to export EML file to PDF file:
Secondly, the Software gives you dual options to browse EML files into software panel. Choose either select files option to browse single or some selected EML files or select folders option to browse bulk EML files into software panel at once.

Choose the folder that contains EML files from your PC.

Choose email files or folders that you want to convert, click the Next tab.

Now an Export options window will appear, simply select the PDF file from the list. You can use this software to export your EML files in any of the listed file format. But in this case, proceed with PDF option.

The software will allow you to apply multiple advance filter options. After that browse destination path to save output file after converting EML to PDF format. At list hit in Next button.

The software will prompt a pop up with Conversion complete successfully message.

Automatically open folder After all these process.
Free Convert EML to PDF Manually
If you are looking for free solution to export EML files into PDF format, then perform the below listed steps:
Guide for Microsoft Outlook Users
Make sure, that you are able access email message in Outlook, If not, then first add your EML files in Outlook. After that launch Outlook and hit on Print button.
Now select the active printer form the drop down menu of Microsoft Print to PDF option.
Hit Print button and browse the path to save Output and provide name for exported PDF file. After that click Save button.
Export EML to PDF Using Word File
Follow below listed instructions to export EML to PDF file format using Microsoft Word.
Select the individual EML file and do mouse right click
Choose Open with and select Microsoft Words
Hit on Office from the top left corner and select Save As
Now find Add-ins to choose other file format, it will automatically save the EML files as PDF file.
Why Manual Method Not Recommended to Convert EML to PDF
Sometimes, manual process can fail when users convert EML to PDF with attachments. If a user wants to convert multiple EML files to PDF, So you must repeat the process again and again. The Manual method only convert a single EML file into PDF file format. During using the manual method maybe you can be lost your data. This process is time-consuming, converting EML to PDF takes more time and effort.
Bottom Line
In conclusion, Above all, we guide both manual and automatic solutions for converting emails format. As well I have listed all the benefits and drawbacks of the manual method. As a result, you can use a third-party tool, which allows you to save multiple EML files to PDF files at one time.
Related Posts: